Description
The larger LTP5 spans subfloor at the top of the blocking or rim board. The embossments enhance performance.
The LTP4 lateral tie plate transfers shear forces for top plate-to-rim board or blocking connections. Nail holes are spaced to prevent wood splitting for single and double top-plate applications. May be installed over plywood sheathing.
The A35 angle's exclusive bending slot allows instant, accurate field bends for all two- and three-way ties. Balanced, completely reversible design permits the A35 to secure a great variety of connections.
Material
LTP4/LTP5 — 20 gauge; all others — 18 gauge
Finish
Galvanized. Some products available in stainless steel or ZMAX® coating. See Corrosion Information.
Installation
Use all specified fasteners; see General Notes
A35 — bend one time only
Load Tables
Load Values with Carbon Steel Nails
These products are available with additional corrosion protection. Additional products on this page may also be available with this option, check with Simpson Strong-Tie for details.
For stainless-steel fasteners, see Fastener Types and Sizes Specified for Simpson Strong-Tie Connectors.
Many of these products are approved for installation with Strong-Drive® SD Connector screws.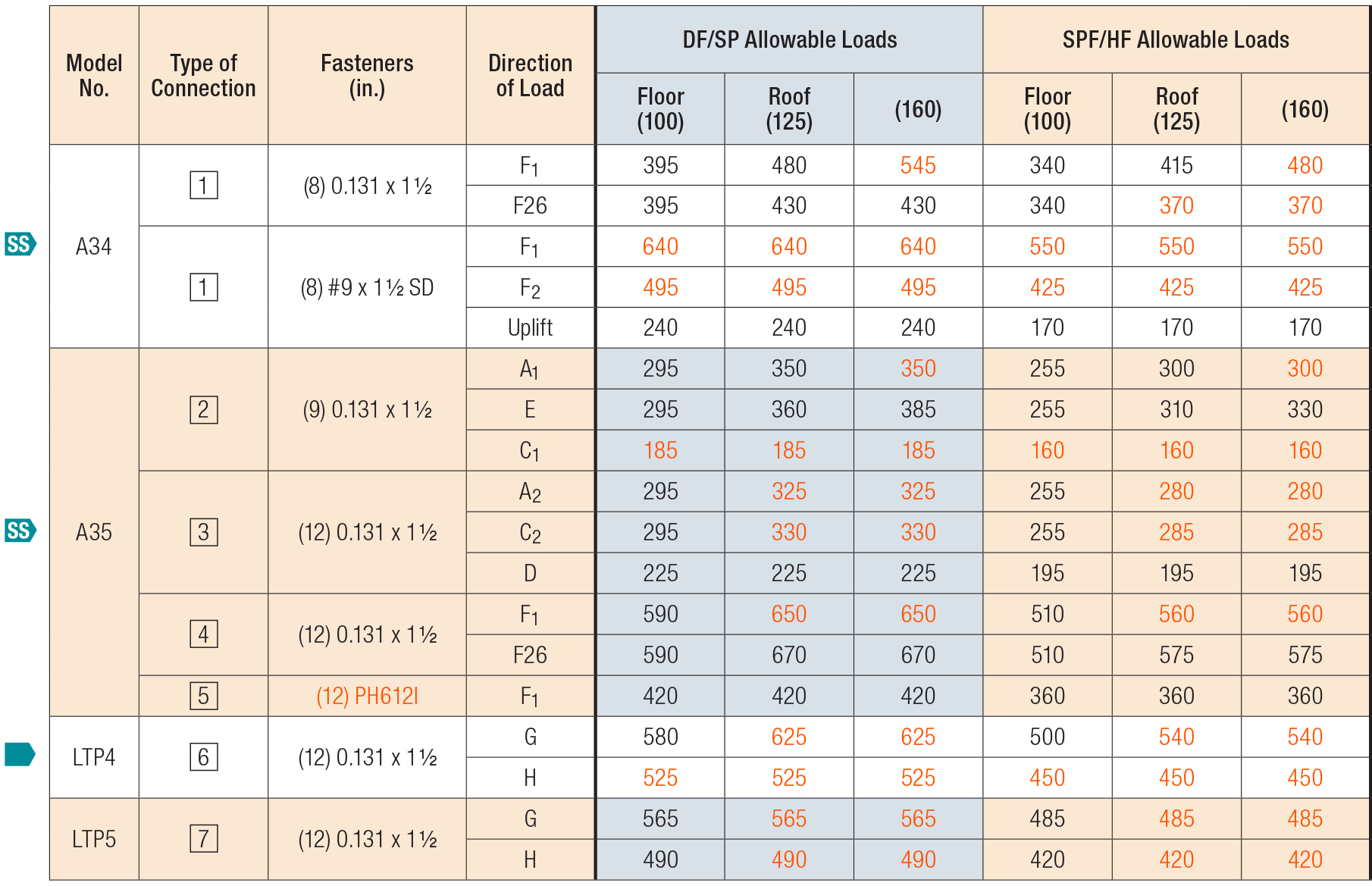 Allowable loads are for one angle. When angles are installed on each side of the joist, the minimum joist thickness is 3".
Some illustrations show connections that could cause cross-grain tension or bending of the wood during loading if not reinforced sufficiently. In this case, mechanical reinforcement should be considered.
LTP4 can be installed over 3/8" wood structural panel sheathing with 0.131" x 1 1/2" nails and achieve 0.72 of the listed load, or over 1/2" sheathing and achieve 0.64 of the listed load. 0.131" x 2 1/2" nails will achieve 100% load.
LTP4 satisfies the IRC continuously sheathed portal frame (CS-PF) framing anchor requirements when installed over raised wood floor framing per Figure R602.10.6.4.
The LTP5 may be installed over wood structural panel sheathing up to 1/2" thick using 0.131" x 1 1/2" nails with no reduction in load.
Connectors are required on both sides to achieve F2 loads in both directions.
A34 and A35 installed with 0.131" x 1 1/2" nails onto 1 1/4" LSL material will achieve 0.90 of the listed F1 and F2 loads.
Fasteners: Nail dimensions in the table are diameter by length. SD screws are Simpson Strong-Tie® Strong-Drive® screws. PH612I is a pan-head #6 x 1/2" screw available from Simpson Strong-Tie. For additional information, see Fastener Types and Sizes Specified for Simpson Strong-Tie Connectors.
Load Values with Stainless Steel Nails
Model No.
Type of Connection
Fasteners
Direction of Load
DF/SP Allowable Loads
SPF/HF Allowable Loads
Floor (100)
Roof (125)
(160)
Floor (100)
Roof (125)
(160)

SSNA8 nails are Simpson Strong-Tie® stainless steel ring shank nails.
NAILS: SSN8 and SSNA8 = 0.131" dia. X 1 1/2" long. See other nail sizes and information.

A34SS
1
8-SSN8
F1
295
365
410
255
280
280
F2
295
365
455
255
310
395
8-SSNA8
F1
395
485
515
340
415
445
F2
395
455
455
340
390
390
A35SS
2
9-SSN8
A1, E
220
220
220
150
150
150
C1
165
165
165
140
140
140
9-SSNA8
A1, E
295
365
395
255
315
340
C1
210
210
210
180
180
180
3
12-SSN8
A2
300
300
300
260
260
260
C2
250
250
250
170
170
170
D
175
175
175
150
150
150
12-SSNA8
A2
295
365
380
255
315
325
C2
295
365
370
255
315
320
D
230
230
230
200
200
200
4
12-SSN8
F1
505
505
505
420
420
420
F2
545
545
545
505
505
505
12-SSNA8
F1
595
695
695
510
600
600
F2
595
670
670
510
575
575
Load Values with Strong-Drive® SD Connector Screws
Model No.
Direction of Load
Fasteners
DF/SP Allowable Loads
SPF/HF Allowable Loads
Floor (100)
Roof (125)
(160)
Floor (100)
Roof (125)
(160)

These products are available with additional corrosion protection. Additional products on this page may also be available with this option, check with Simpson Strong-Tie for details.

A34
F1
8-SD9112
640
640
640
450
550
550
F2
495
495
495
425
425
425
A35
A1, E
12-SD9112
260
295
320
225
255
275
C1
170
170
170
145
145
145
A2
260
295
320
225
255
275
C2
260
295
315
225
255
270
D
150
150
150
130
130
130
F1
695
695
695
600
600
600
F2
845
845
845
670
725
725
LTP4
G
12-SD9112
910
910
910
670
780
780
H
800
800
800
670
690
690
Code Reports & Compliance