Description
Introducing the Strong-Drive SDWS Timber SS heavy-duty structural fastener in severe corrosion–resistant Type 316 stainless steel. Its heavy-duty 0.276"-diameter shank, SawTooth™ point and flat washer head make the SDWS Timber SS the ideal choice for use in applications such as docks, wharves, piers, boardwalks and ledgers where strength and severe-corrosion resistance are critical.
Key Features
Fast installation — no predrilling, no counterboring, no heavy-duty equipment needed
Greater withdrawal resistance than spikes
Patented SawTooth point for fast starts and less driving torque — without predrilling
Heavy-duty 0.276"-diameter shank provides strength
Large 0.650"-diameter flat washer head with nibs provides load-bearing area and seats flush with surface
Deep T50, 6-lobe recess for secure driving
Type 316 stainless steel provides corrosion resistance even in severe conditions
Mid-shaft knurl aids in torque reduction
Available in 3", 4", 5", 6", 8", 10" and 12" lengths
US Patent: 9,523,383
Applications
Structural wood-to-wood and engineered-wood connections in coastal or severe corrosion environments. Typical applications include piers, boardwalks, wharves and ledgers.
Product Includes
Retail clamshells, cartons and buckets include 6-lobe, T50 driver bit (replacement part # BIT50T-125-RC1)
Load Tables
SDWS Timber SS — Allowable Shear Loads — Douglas Fir–Larch, Southern Pine Lumber

See footnotes below.
SDWS Timber SS — Allowable Shear Loads — Hem-Fir, Spruce-Pine-Fir Lumber

All applications are based on full penetration into the main member. Full penetration is the screw length minus the side member thickness.
Allowable loads are shown at the wood load duration factor of CD = 1.0. Loads may be increased for load duration per the building code up to a CD = 1.6. Tabulated values must be multiplied by all applicable adjustment factors per the NDS.
Minimum fastener spacing requirements to achieve table loads: 6" end distance, 1 1/2" edge distance, 3/4" between staggered rows of fasteners, 4" between non-staggered rows of fasteners and 6" between fasteners in a row.
For in-service moisture content greater than 19%, use CM = 0.7.
Loads are based on installation into the side grain of the wood with the screw axis perpendicular to the face of the member.
The tabulated reference withdrawal design value, W, is in pounds per inch of the thread penetration into the side grain of the main member.
The tabulated reference withdrawal design value, Wmax, is in pounds where the entire thread length must penetrate into the side grain of the main member.
Embedded thread length is that portion held in the main member including the screw point.
Values are based on the lesser of withdrawal from the main member or pull-through of a 1 1/2" side member.
SDWS27SS — 2015 and 2018 IRC Compliant Spacing for a Sawn Lumber Deck Ledger-to-Rim Board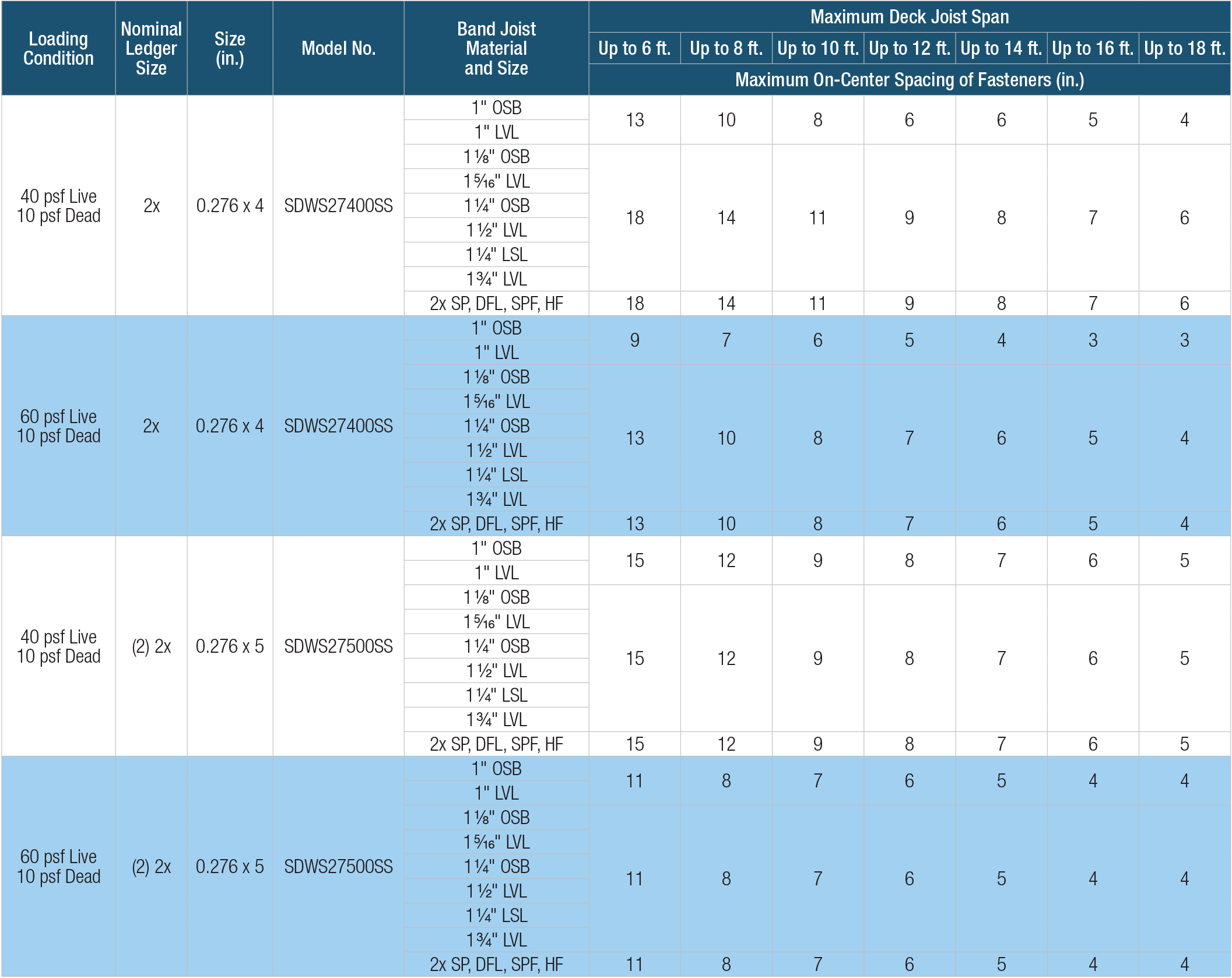 SDWS27SS screw spacing values are equivalent to 2015 IRC table R507.2. The table above also provides SDWS27SS screw spacing for a wider range of materials commonly used for rim board, and an alternate loading condition as required by some jurisdictions.
Solid-sawn rim board shall be spruce-pine-fir, hem-fir, Douglas fir–larch, or southern pine species. Ledger shall be hem-fir, Douglas fir–larch, or southern pine species.
Fastener spacings are based on the lesser of single fastener ICCES AC233 testing of the Strong-Drive SDWS27SS screw with a safety factor of 5.0 or ICC-ES AC13 assembly testing with a factor of safety of 5.0. Spacing includes NDS wet service factor adjustment.
Rows of screws shall be vertically offset and evenly staggered. Screws shall be placed 1 1/2" to 2" from the top and bottom of the ledger or rim board with 3" minimum and 6" maximum between rows and spaced per the table. End screws shall be located 6" from the end and at 1 1/2" to 2" from the bottom of the ledger. For screws located at least 2" but less than 6" from the end, use 50% of the load per screw and 50% of the table spacing between the end screw and the adjacent screw, and for screws located between 2" and 4" from the end, predrill using a 3/16" drill.
Structural sheathing between the ledger and rim board shall be a maximum of 1/2" thick and fastened per code.
Extra Information
Brand:
Simpson Strong-Tie