Description
Outdoor Accents post bases secure the post or column to concrete and are perfect for outdoor projects such as pergolas, patio covers and other top-supported structures. These post bases feature decorative accents and provide ZMAX® galvanization with black powder coat for extra corrosion resistance.
APB models include a 1" standoff from the concrete to help avoid post-end rot caused by moisture. These bases accommodate lumber in both nominal and rough sizes. Optional decorative side plates are available to give the look of a four-sided post base.
Key Features
Designed to meet stringent building codes for seismic or high-wind events
Install with Outdoor Accents structural wood screws and hex-head washers (sold separately) for a decorative look
Slotted for adjustability
Finish
ZMAX® with black powder coat; APB88 and APB1010 standoff base — ZMAX only
Installation
Use all specified fasteners; see General Notes
Use of the Outdoor Accents connectors requires use of the hex-head washer (STN22) and structural wood screw (SDWSDBB)
APB44 post base is designed for use with nominal 4x4 lumber; APB44R is for rough lumber
APB66 post base is designed for use with nominal 6x6 lumber; APB66R is for rough lumber
APB88 post base is designed for use with nominal 8x8 lumber; APB88R is for rough lumber
APB1010 post base is designed for use with nominal 10x10 lumber; APB1010R is for rough lumber
Load Tables
Post Bases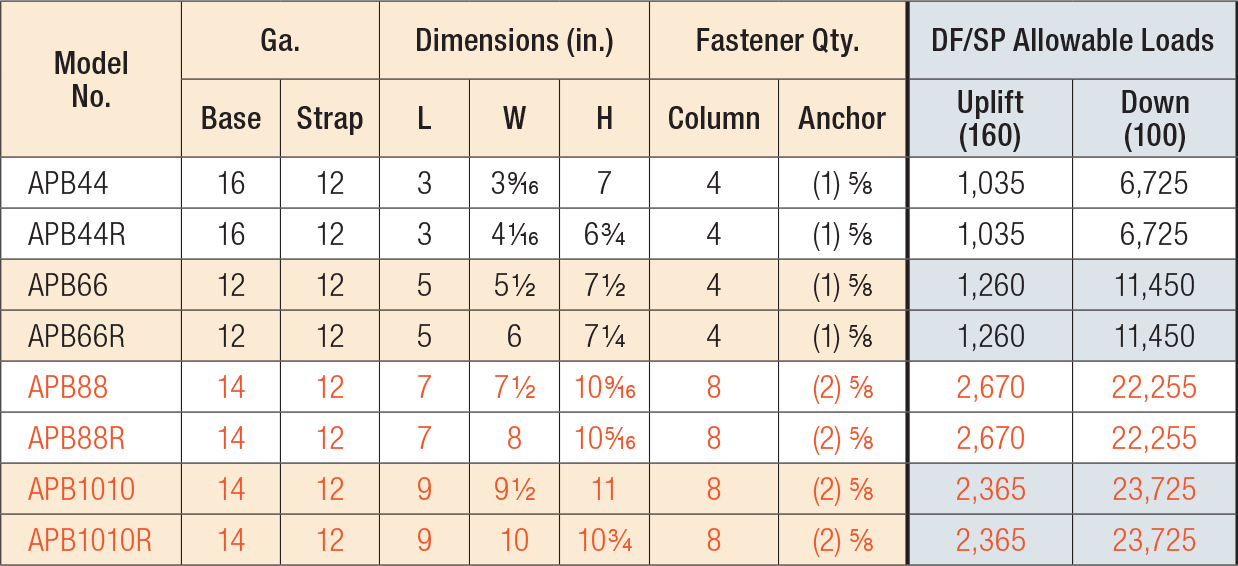 Uplift loads have been increased for earthquake or wind loading with no further increase allowed. Reduce where other loads govern.
Downloads may not be increased for short-term loading.
Specifier is to design concrete and anchorage for uplift loads.
Downloads shall be reduced where limited by capacity of the post.
All post fasteners are Outdoor Accents® SDWS22312DBB structural wood screws inserted through an STN22 washer.
Post bases do not provide adequate resistance to prevent members from rotating about the base and therefore are not recommended for installations that lack top support (such as fences or unbraced carports).
Fasteners sold separately.
Extra Information
Brand:
Simpson Strong-Tie