Description
The innovative LSSJ is ideal for connecting jack rafters to hip members. Featuring a one-sided connection point for ease of installation and a versatile, hinged seat, the LSSJ is easily field adjustable to all typical rafter slopes ranging from 0:12 to 12:12. The LSSJ's header flange allows for easy skew adjustment, from 0° to 45°. It ships pre-bent at 45° so is ready to place for most typical applications. Specify left (L) or right (R) model when ordering.
Key Features
Hanger installs from one side with all fastener holes easily accessible
Can be installed as a retrofit
Seat grip makes setting the hanger quick and easy
Accommodates roof pitches from 0:12 to 12:12
Swivel seat adjusts easily and provides more support to joist, allowing for a higher load than fasteners alone
Installation
Use all specified fasteners; see General Notes
For LSSJ26 an extra nail in the seat at load durations (115) and (125) adds 75 lb. to the 0.148" x 1 1/2" nails table downloads
Joist end needs to be bevel cut
Table and illustration shows left and right skews LSSJR/L (LSSJR = skewed right; LSSJL = skewed left)
Load Tables
These products are available with additional corrosion protection. Additional products on this page may also be available with this option, check with Simpson Strong-Tie for details.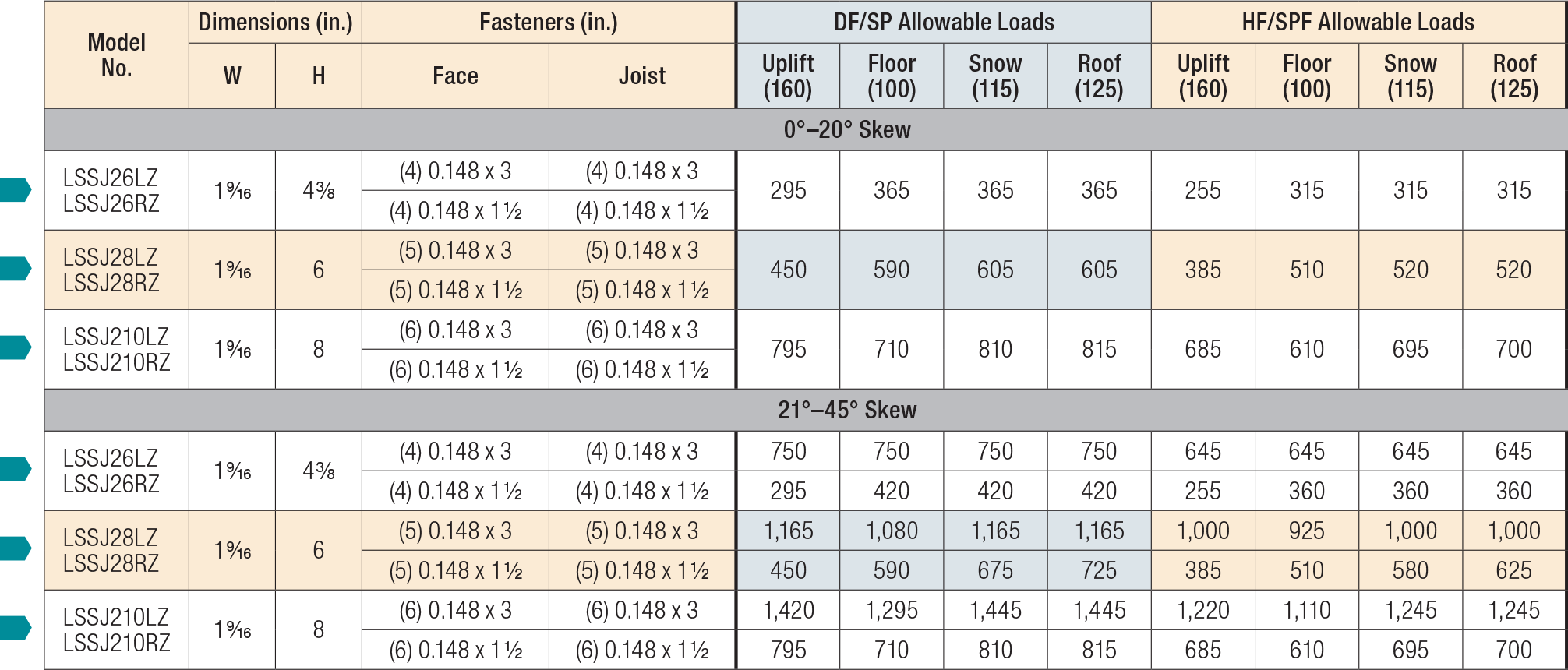 Uplift loads have been increased for earthquake or wind loading with no further increase allowed. Reduce where other loads govern.
Fasteners: Nail dimensions in the table are listed diameter by length. For additional information, see Fastener Types and Sizes Specified for Simpson Strong-Tie Connectors.
Extra Information
Brand:
Simpson Strong-Tie